| Release date | Release name | ID | Description | Documentation |
| --- | --- | --- | --- | --- |
| 03-Mar-2022 | Procurement: Procurement Control Center 1.0.0 | PA-257 | Releases an app that includes pre-built analyses to help determine procurement priorities and decisions, identify risks and gaps and meet targets. Allows tracking of procurement performance over time using customized KPIs. | Procurement Control Center App and in-app help. |
| 14-Mar-2022 | Accounts Payable release | AP-407 | Adds filter which removes matches that have the same BKPF entry (SAP specific). | |
| Release date | Release name | ID | Description | Documentation |
| --- | --- | --- | --- | --- |
|   | Action Flow release 32 | EMA-636 | Adds a live log for Action Flow executions. |   |
No features were released in April 2022.
No features released in April 2022.
No features released in April 2022.
| Release date | Release name | ID | Description | Documentation |
| --- | --- | --- | --- | --- |
| 07-Apr-2022 | Team Service v1.103.1 release | PAD-534 | Allows an admin to unlock locked user accounts across multiple timezones and ensures they are not locked again before users can log in and unlock their accounts. | |
| 07-Apr-2022 | Team Service v1.103.1 release | PAD-564 | Description: Improves admin management of locked users and sets up an automated process to remove locked users from a team. | |
| 21-Apr-2022 | Event Collection 1.84 release | ECUI-182 | Allows the transfer of data connections between Data Pools to be defined at a more granular level, with sharing of data with other Data Pools controlled at individual table level. | |
| 21-Apr-2022 | Event Collection 1.84 release | ECUI-514 | Adds a deletion warning for sensitive data integration operations and asks the user to enter the name of the object to be deleted to confirm the deletion operation. | Not applicable. |
No features released in April 2022.
| Release date | Release name | ID | Description | Documentation |
| --- | --- | --- | --- | --- |
| 12-Apr-2022 | Component enhancements | STU-627 | Adds table usability features including infinite scroll, in-line editing for dates, updated limit and pagination configurations and adds visual editing for the comments component. | |
| 28-Apr-2022 | SPA 1.29.0 release | DV-3861 | Pins a selection in Studio Analysis edit mode so it is applied by default for business users when published to Apps. | |
Table infinite scrolling
Infinite scrolling lets you view all your data without needing pagination. Data is continuously loaded as you scroll through the table. This is enabled in all new tables by default.

To enable this in existing tables, remove the "Show Pagination" selection in the Visual Editor.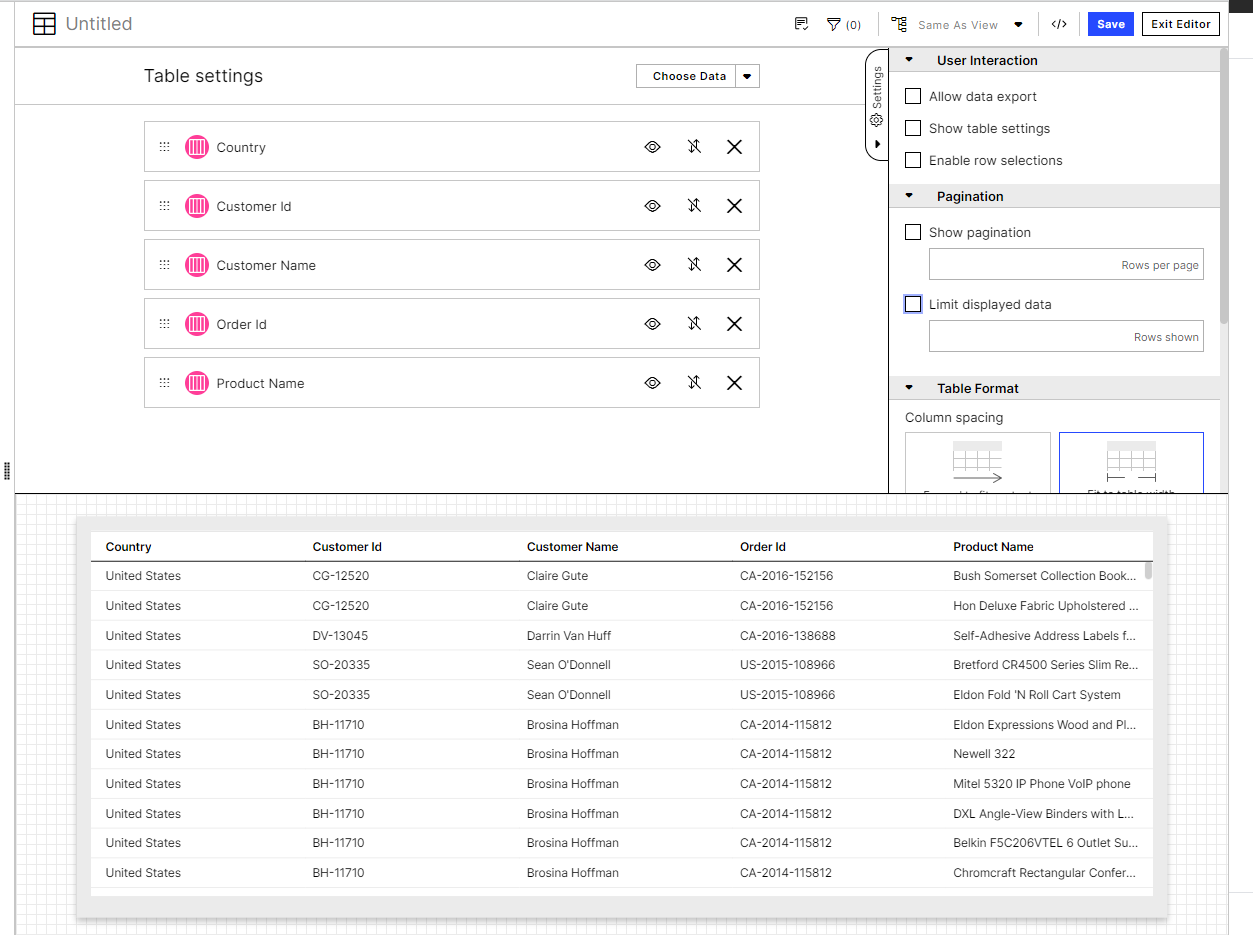 Separate pagination and display limit configuration in tables
The limit field was previously set a limit or page size (depending on if pagination was enabled).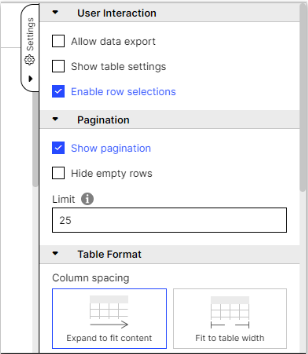 This process has been cleaned-up by introducing two new fields:
Display Limit: If enabled, this field will limit the total number of rows displayed in the table.

Show Pagination: If enabled, you can define the number of rows that will be displayed per page. If this is not enabled, there will be no pagination in the table and only infinite scroll will be used.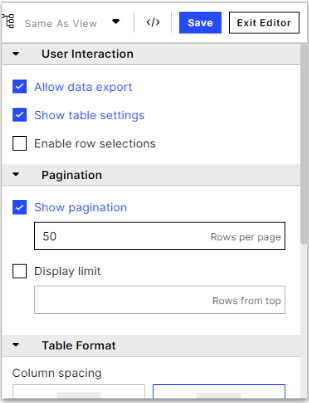 Empty row issue fixed in table
"Hide empty rows" will no longer be a configuration and will be always set to "true" to prevent empty rows from displaying with scroll in the tables.
In the past, this configuration was used to maintain the table height when applying view filters.

However, this will no longer be needed with the following changes:
When pagination is enabled the default table height will always be based on the number of rows set per page (or defined container height) and will not change as the table is filtered.

When pagination is not enabled and infinite scroll is used, the table height will by default adjust in height as it is being filtered. You can define a container height in the layout if you wish to keep this height from changing.

Inline editing for Date type attributes
In-line editing can be used for "Date" type attributes.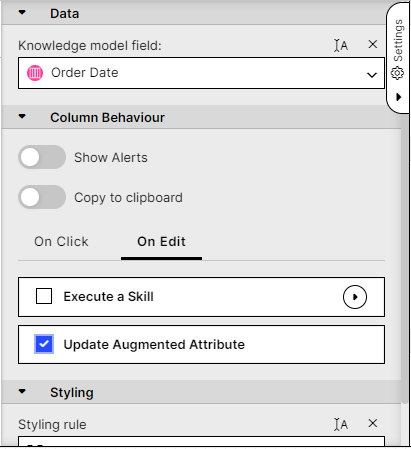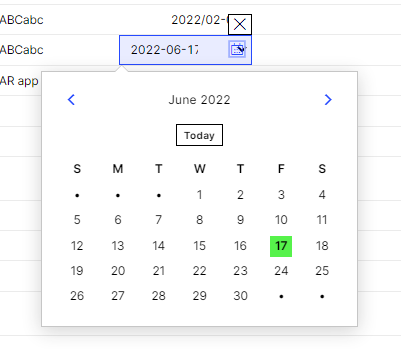 Sticky header configuration deprecated and set to true in all tables 
The sticky header configuration will be removed from the YAML and will by default be set to "True" in all tables. This configuration has not been functioning correctly for several months so there will be no change in behavior for any users.  Currently, all tables already have sticky headers enabled and will continue to have these enabled.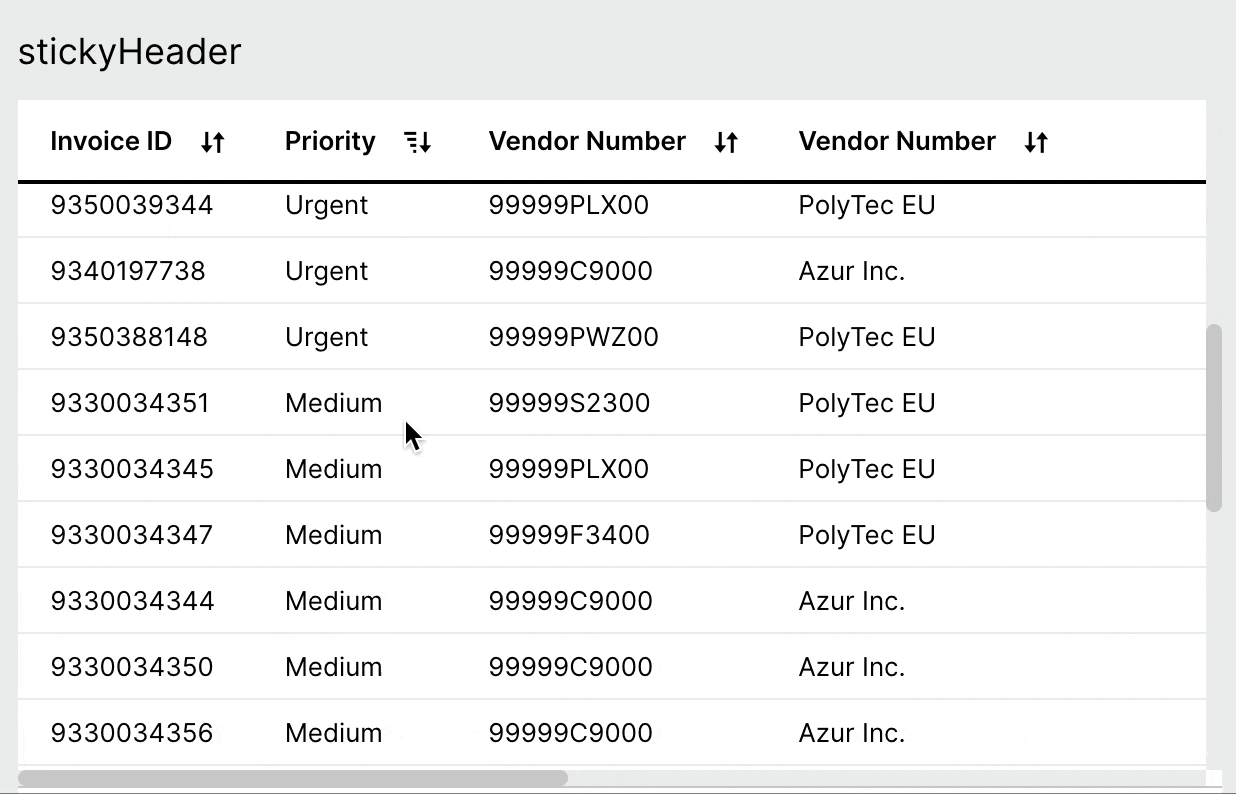 Comment Component Visual Editor
The comment's component can now be made with a visual editor.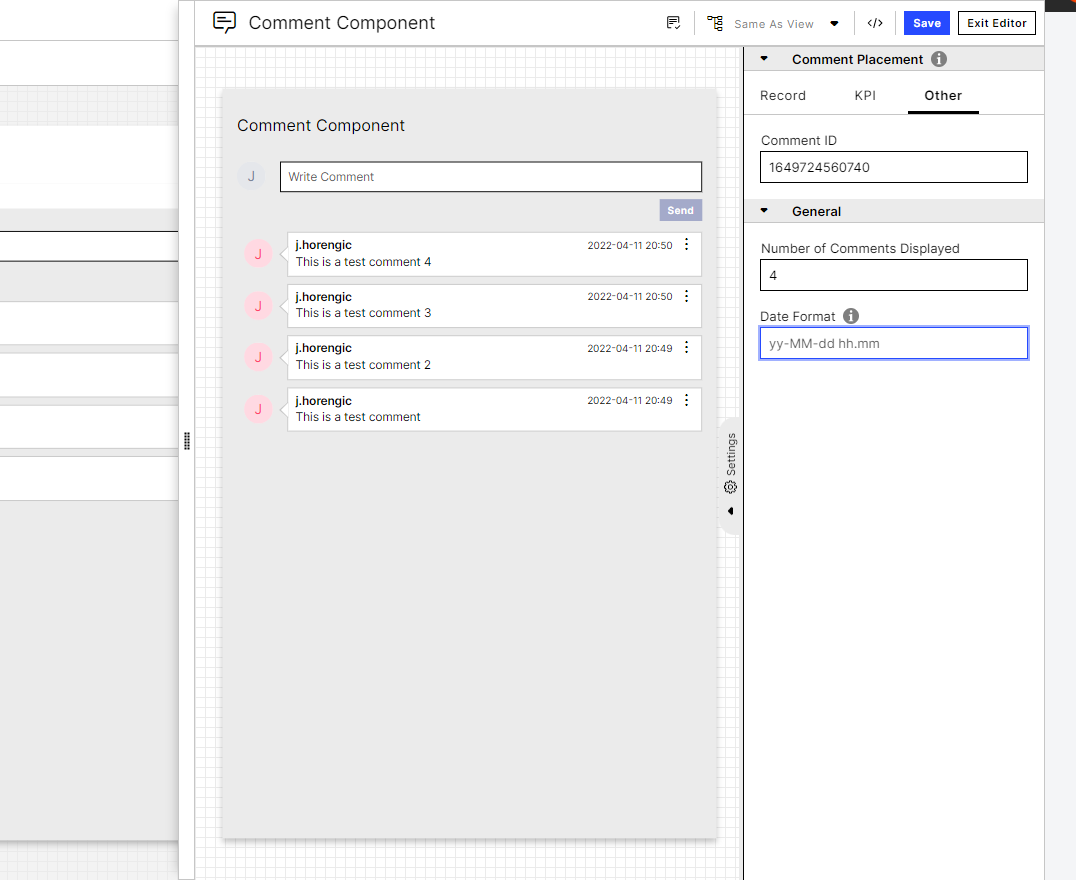 SPA 1.29 release 28.04.22
Pinned selections
You can now set a default filter in Studio Analysis that is applied for all users every time they open the analysis. Selections can be pinned in edit mode using the Pin Selection toggle which appears in both the dropdown and full screen versions of the selection UI. This can be used to limit the scope of the analysis to data relevant to end users, bringing the functionality of the Publish with selections feature from Process Analytics to Studio. For more information, see Pinned Selections.
Bug fixes
The load script information in the documentation generated from CPM4-migrated analyses has been corrected.

Fill components did not render properly if the loading process was interrupted by leaving the browser tab. This no longer happens.

In some cases, the automatic vertical axis range for a chart with stacked KPIs would be too small, resulting in truncated data. The range is now calculated correctly.

A minor visual bug in charts with horizontal scrolling was fixed.

Searching an OLAP column of strings for \ (blackslash) or ' (single quote) produced an error in the OLAP that would persist until the page was refreshed. The search function now works as intended for these characters.
.
Fixes for the Task Mining Service:
Update design: Removing images from the quickstart wizard.

Refactor permissions checks for several backend endpoints.
Task Mining Release 2022.04.21
Fixes for Task Mining Analysis:
Fix a Task Documentation KPI
Task Mining Release 2022.04.22
Improvements: New widget to simplify the export of a PDD document with the click of a button
Added support for capturing values for web page extractions of input type text elements
Task Mining Release 2022.04.28
Improvements: New widget to simplify the export of a PDD document with the click of a button