Download Unearned Cash Discount
Follow these steps to download the Unearned Cash Discount from the Marketplace:
Go to the Celonis Marketplace and search for "Unearned Cash Discount."

On the Unearned Cash Discount page in Marketplace, you will see the required package for the Accounts Receivable process connector. Make sure you have the latest version set up before installing the UCD app.

Click the blue "Get it now" button.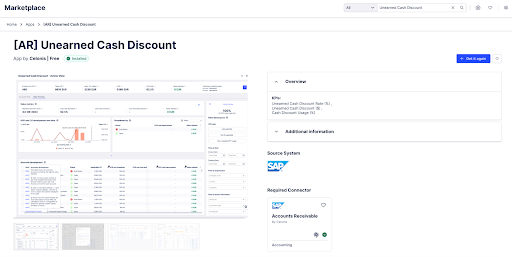 Note
In case you cannot install the app via the marketplace directly (i.e. the blue button does not indicate direct installation), you can request access to the app by filling the form that is popping up when hitting the blue button "Request Access". Please note that this is the standard procedure for any Celonis app that is considered "Limited Availability". The AR Business Apps team will then enable the app for you. Once that's done, you will be notified and will see the button for direct installation.