| Release date | Release name | ID | Description | Documentation |
| --- | --- | --- | --- | --- |
| 05-Apr-2022 | Procurement: Supplier Governance 1.0.0 | PA-256 | Adds a pre-built app that provides a 360º view of supplier performance using internal spend data sources that provide business performance insights and allows benchmarking of performance, management of preferred supplier lists and maintenance of supplier contracts using one central tool. | Procurement Getting Started Guide and in-app help. |
| 14-Apr-2022 | Order Management Action Flow release | OM-AFSAP-OOR-1.0.0 | Provides a table report via email with an overview of open orders for pre-selected sales organizations. | |
| 14-Apr-2022 | Order Management Action Flow release | OM-AFSAP-KPI-1.0.0 | Provides an overview of the main KPIs in an organization via a scheduled email report. | |
| 14-Apr-2022 | Order Management Action Flow release | OM-AFSAP-ADO-1.0.0 | Sends an alert for orders that are already overdue or due within the next few days and shows potential inefficiencies. | |
| 21-Apr-2022 | Marketplace release | STORE-153, STORE-155 | Improves user experience by simplifying the workflow when requesting installation of an app or connector by reducing reliance on admins and directing the user to the Celonis service desk as appropriate. | Not applicable. |
Release date

Release name

ID

Description

Documentation

07-Mar-2022

Automation release

EMA-480

Adds notifications for Action Flows.

17-Mar-2022

Phoenix v3.17 release

PHX-904

Adds automatic deletion of an Augmented Attribute value when the matching Data Model row is deleted.

17-Mar-2022

Phoenix v3.17 release

PHX-1009

PHX-1011

Adds new filtering options for Task List.

29-Mar-2022

Phoenix v3.18 release

PHX-1039

Adds realtime triggering of the Smart Sensor when the Augmentation Table changes.

29-Mar-2022

When creating and testing Action Flows, use the the live logs to help you spot errors in the configuration more quickly and easily.
No features released in March 2022.
No features released in March 2022.
Release date

Release name

ID

Description

Documentation

04-Mar-2022

Vertica Transformer 1.10.1 release

DL-374

Adds LISTAGG Vertica functionality for SQL transformations, allowing the conversion of rows into a string of concatentated values including the aggregation of multiple columns into a comma-delimited list of values.

07-Mar-2022

Platform release

ECUI-476

Automatically deletes execution logs that are older than three months old; this does not affect Custom Monitoring functionality where execution logs are collected and made available permanently in a dedicated Monitoring Pool for Event Collection as soon as Custom Monitoring is enabled.

09-Mar-2022

Navigation Toolbar release

PAD-184

Adds a new vertically-positioned Navigation Toolbar to EMS, re-orders and re-groups some services, simplifies navigation and adds some terminology changes.

24-Mar-2022

Event Collection 1.80 release

ECUI-177

Allows trigger-based schedules to be defined in data integration so the successful execution of one schedule automatically triggers another schedule; this allows dependencies to be created between schedules and also supports self-triggering of schedules where a schedule is directly re-triggered once it has executed successfully.

Note

Contact servicedesk@celonis.com to get early access to this feature.

Not applicable.

29-Mar-2022

Contact Admin feature release

PAD-304

Allows end users to message their EMS administrator using the Need Help pop-out.
No features released in March 2022.
Release date

Release name

ID

Description

Documentation

07-Mar-2022

Navi 1.32 release

TN-2367

Implements visual editors to connect flags to impacted KPIs in Knowledge Models.

07-Mar-2022

Navi 1.32 release

TN-2741

Implements visual editors for action object creation in Knowledge Models.

22-Mar-2022

Studio release

STU-627

Adds table usability enhancements: 

Column hover over help text.

Custom column resizing.

Column sizing configurations (fit/expand) in the visual editor.

Line break visual editor configurations in both the header and cell content.

29-Mar-2022

(release delayed to Apr 2022)

SPA 1.28.0 release

DV-3861

Pins a selection in Studio Analysis edit mode so it is applied by default for business users when published to Apps.

Not applicable.

30-Mar-2022

Navi 1.34 release

TN-2767

Adds a button that takes users to the Base Knowledge Model their current Knowledge Model was extended from.
Improvements
The PQL editor preview now shows the common table of the PQL query. The common table is important because only tables sharing a common table can be joined and the results of a KPI may depend on the common table.

For design consistency, PQL documentation is now accessed from the PQL editor by clicking ; this replaces the former toggle.

The wording for the settings Allow bpmn export of the process explorer and Show filter UI on published version was updated.
Bug fixes
The sorting buttons in the Throughput times section of Process Overview had no effect. The buttons now sort by slowest/fastest as intended.

Previously, renaming a bookmark highlighted it in the bookmarks menu. This no longer happens.
Visual Editors for Actions
Easily build automations by integrating existing Skills to your Views with the NEW Visual Editor for Actions.
Faster Skill Connection: Easily connect existing Skills to your Actions and quickly specify the Attributes you want to pass through your Skill Inputs. The Record your Attributes belong to will be automatically connected to the Action.

Easier Filter Addition: Use the PQL Editor to quickly specify in which situations the Action will be available for users by creating a Filter statement. 

Streamlined Button Creation: Quickly design the button to trigger your Action using the Button Visual Settings.
Connect Flags to KPIs Using Visual Editors
Quickly connect Flags to KPIs impacted by the Flags added to your data to add these to the Execution Gaps Component.
Streamlined Flag Creation: Easily monitor unwanted behaviour in the data by creating a new Flag Statement using the PQL Editor. Quickly see if the Flag impacts the data by looking at how many rows have been flagged on the Record.

Easy Flag Impact Recognition:  Easily identify the impact the Flags have over the data by adding different KPIs to the Impacted KPIs list and seeing how they interact with the Flag.
Note
This release features several table usability enhancements.
Column Hover Over Help Text
Help text will now automatically display for each column header on-hover. This text will be populated from the Knowledge Model description field for both Attributes and KPIs.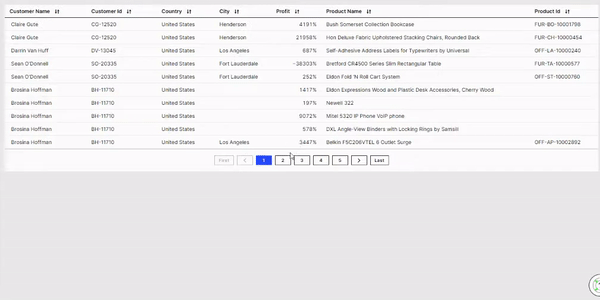 Populate this help text by filling out the "Description" field in the Knowledge Model editor.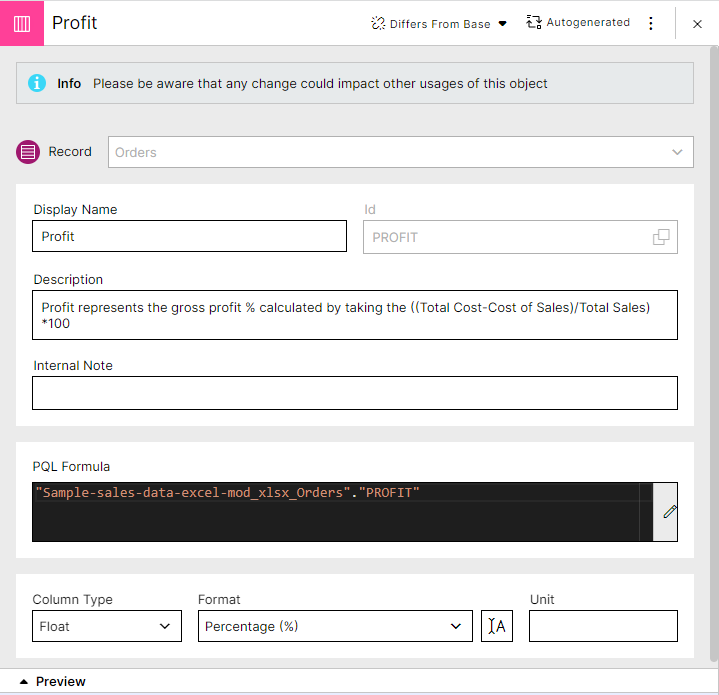 Column Resizing
Users can now manually resize columns in the table to quickly customize the width to their preference. Any resizing changes will be saved in a user's preferences. This means that if one user resizes columns, these changes will not affect another user's table.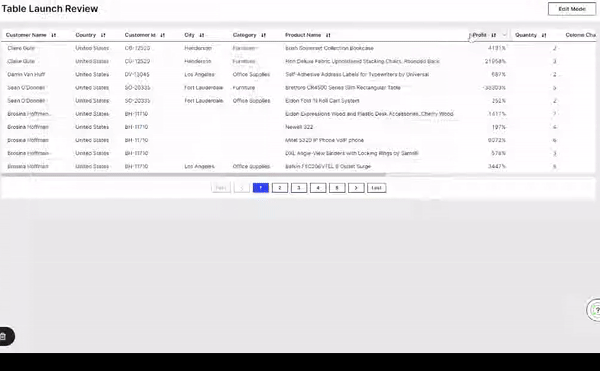 Column Sizing Configuration
Two new configurations have been introduced into the table visual editor that enable users to adjust the column size and resizing method.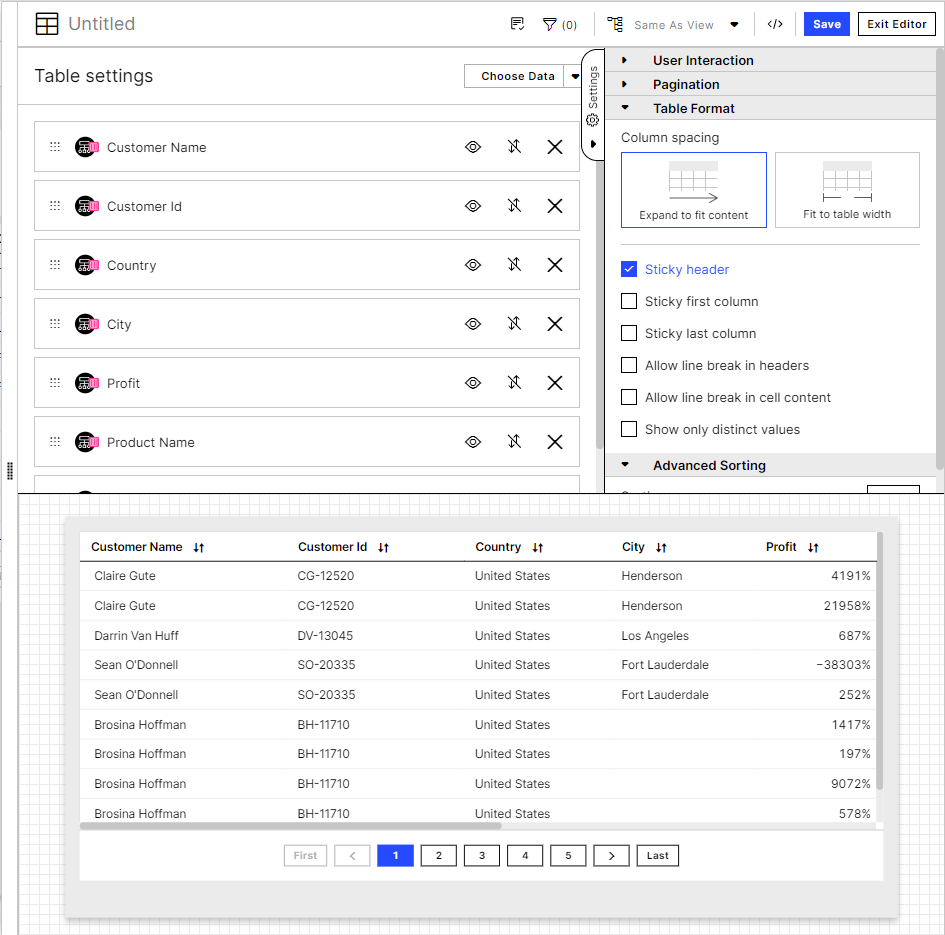 Expand to fit content: Columns will expand to show all column header and cell content using a horizontal scroll, if required. As columns are resized the table width will expand/condense based on adjusted columns.

Fit to table width: Columns will be equally spaced to fit in defined table width. The table width will not change even as columns are resized.

Line-Break Configurations
Line-break configurations are added into visual editors for both headers and within the cells.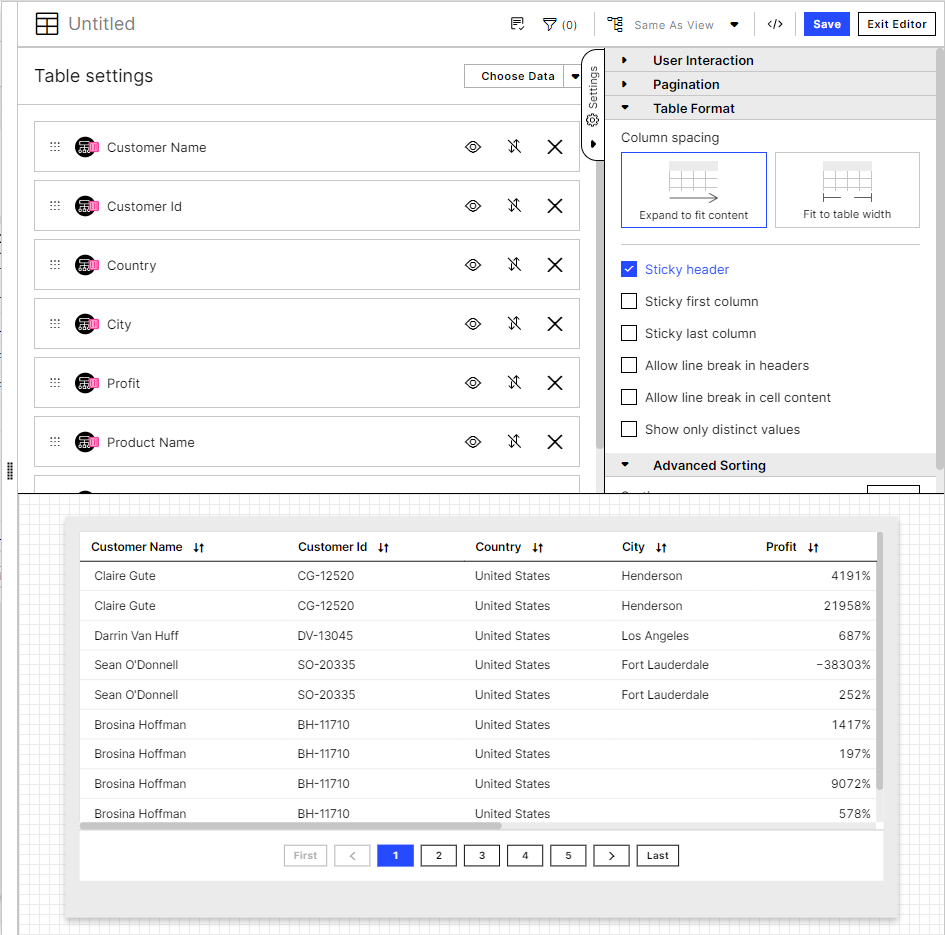 You can now save time by quickly jumping to the Base Knowledge Model your KM extends from with just one click!  Now every Knowledge Model Extension will have a button redirecting to its Base Knowledge Model.

Fixes for the Task Mining Service:
Introducing new navigation bar design (moved form top to left).

Adding diagnostic logging capabilities when a new task mining project is created.
Image Uploader for Screenshots:
Fixes issue when downloading certain screenshots.

Adding generic error handling.