Process Repository is an integrated and centralized environment for creating and maintaining business process diagrams. By documenting business processes, you can them leverage them for your Process Mining use cases.
An example business process diagram, created within process repository:
Process repository capabilities
Document as-is and to-be processes and maintain process models and process-related information in an integrated and centralized environment with versioning.

Directly export as-is process from the Process and Variant Explorer to the Process Repository in BPMN and PNG formats.

Retrieve process models from the repository directly to the Conformance Checker to compare the as-is process with your target models.

Connect Celonis to your BPM tool in place to automatically sync process models and process mining information.
Using the process repository
You can access your process repository by clicking More - Process Repository: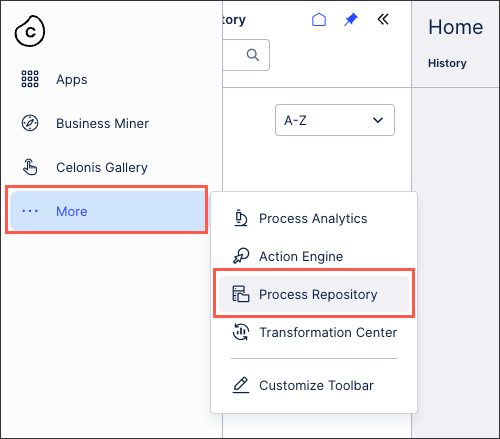 Process repository then has four main feature areas:
Home: This is an overview of all process repository activity, including shortcuts to available categories.

Categories and sub-categories: By creating and managing categories and sub-categories, you can organize your business process diagrams into common themes or business areas.

In this example, we have created an Order to Cash category and then added regions as sub-categories:

You can manage existing categories and sub-categories by clicking Options:

Process models: View the process models that were either created in or imported into a category or sub-category. See Creating and importing process model diagrams.

Attributes: This gives an overview of all attributes related to the category or sub-category you are viewing. Available attributes include links, attachments, records, and comments.